West Cork Whale Watching
West Cork boasts it's breath-taking sights and it's unique activities which can be enjoyed in West Cork. There are many activities you can embark on before or after your wedding day at the West Cork Hotel. With this in mind we've put together a list of whats on in West Cork for you and your guests to enjoy pre or post wedding.
Whale Watching in West Cork is an experience that will no doubt complete any wedding. The Irish Seas provide some of the largest marine wildlife Europe has to offer and there's never been a better time to explore the picturesque view of the Irish sea while exploring the marine wildlife.
West Cork is home to whales, fin whales and humpback whales. In Spring, Minke Whales return to the idyllic Irish coast. Transitioning into the summer months, the Minke whales are joined by Humpback and Fin Whales.
There are many items which we recommend bringing on your tour. Out at sea can be quite windy, therefore bringing a Windproof/Waterproof jacket is important. When the sun is shining, you should definitely top up on suncream often.
Inchydoney Beach
Inchydoney Beach is located in Clonakilty and is located a 30-minute drive from West Cork Hotel and easily accessible through the N71.
Inchydoney Beach is renowned as one of the most breath-taking beaches in Ireland boasting the range of sights that can be seen. There has never been a better time to relax and unwind while immersing yourself in a cocktail of colours.
Inchydoney Beach also provides a stunning backdrop for photography that will last a lifetime.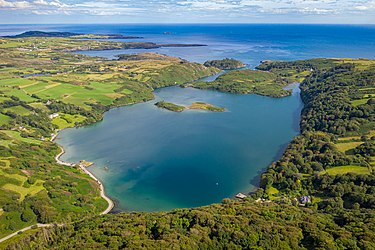 Visit Lough Hyne
Lough Hyne is located a 10-minute drive from West Cork Hotel through the R595. Lough Hyne is home to some of the most stunning views in West Cork and is also an ideal background for stunning wedding photos.
Knockomagh Hill is approximately 197 metres high and takes on average 1 hour to complete which is dependant on fitness levels. Once you reach the top of the hill, you will be greeted to the breath-taking views of the West Cork coast and ruins of a cottage. Night time sea kayaking is another very popular activity and magical experience in Lough Hyne were the Phytoplankton causes the glow-in-the-dark effect.